Automotive Mezzanine
This board is designed to bridge the gap between 96Boards Consumer Edition single board computers, and the requirements of a high end automotive infotainment system. With the inclusion of Littelfuse Automotive TVS Diodes and optically isolated input signals, it is designed to protect sensitive electronics from the harsh conditions presented by the automotive electrical environment while providing a feature rich and flexible interface between the driver and their vehicle.
Photos
Prototype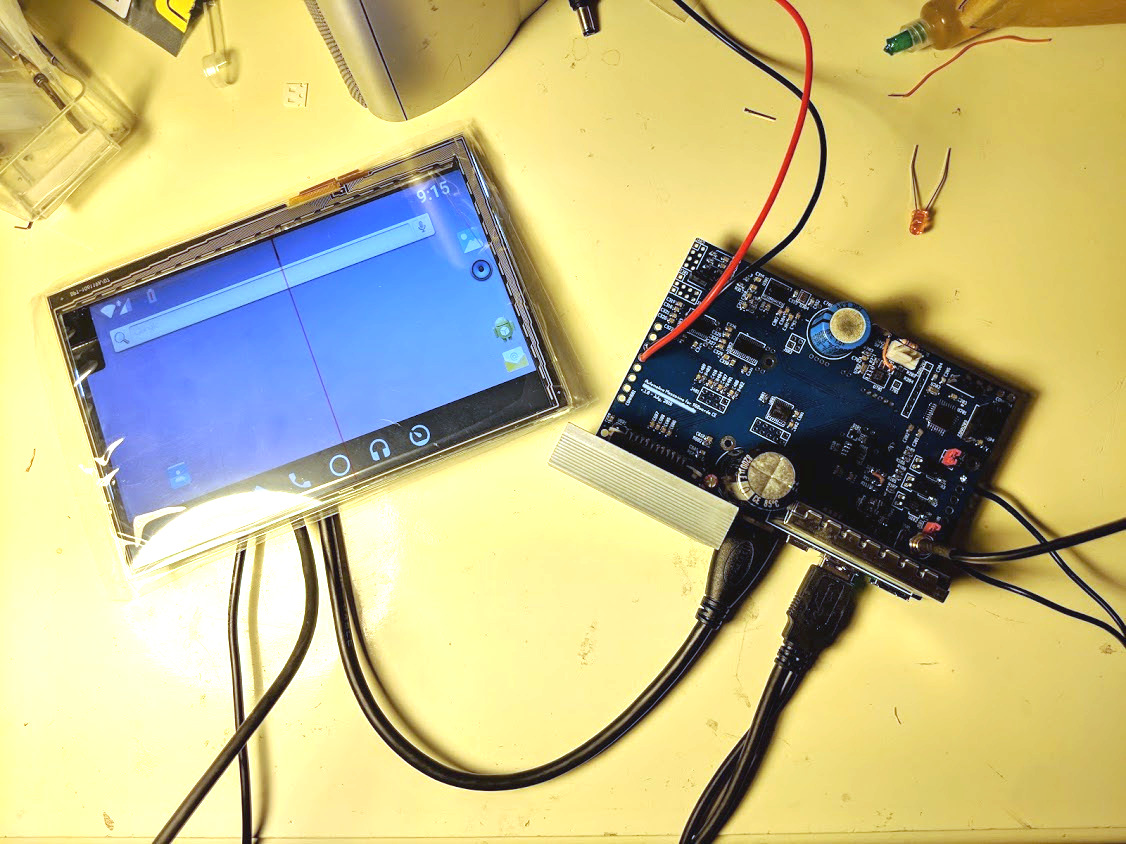 Complete
Specifications
123mm x 78mm
Audio

Analog input (ADC): Texas Instruments PCM1865

2-channel (Stereo) Microphone
Stereo AM/FM Radio
Dual Stereo Line-in

Analog output (DAC): Dual Texas Instruments PCM5142

Independent volume controls for all 4 channels
Programmable DSPs, each DAC independently
Line-out

AM/FM Radio: NXP TEF6686
Amplifier: STMicroelectronics STPA003

2Ω driving capability
Stable to 6V for start-stop compatibility

Real-time clock: NXP PCF85063A

Supercapacitor backup for maintenance free long life

Microcontroller: Atmel SAMD21E18A-A

Analog steering wheel interface (USB-HID)
5V PWM cooling fan
System power control
5V and 14V output switches

Input signals

Accessory, Headlights, Reverse
Optically isolated
Signals driven both to SBC and Microcontroller

Power input

Nominal automotive power is within 96Boards CE acceptable input range
Littelfuse Automotive TVS Diodes protect against overvoltage, reverse, spikes.

Voltage level shifter
Compatibility
The board is designed to comply with the 96Boards Consumer Edition specifications. It should be compatible with all 96Boards CE single board computers, as well as any that implement the 96Boards CE high and low speed interfaces such as the 96Boards SoM Carrier Board (however, it will probably require a spacer to prevent interference between the Automotive Mezzanine and the SoM).
It must also be understood that not all 96Boards CE single board computers implement all features required for an optimal automotive experience. For example, 96Boards CE does not mandate the inclusion of an I2S input pin on the low speed header, this pin is not connected on the Dragonboard 410c, preventing the microphone input from being received by the SBC. It also does not mandate connection of the I2S pins on the Bluetooth module (if present at all!), which in fact are not connected on the Rock960, making bluetooth HFP (phone calling) prohibitively complex to implement.
We are maintaining source code for Hikey960 on Android 9 (to be updated to 10 when time permits), which implements all required features. Support for Dragonboard 820c on Android 10 is currently a work in progress, though public and nearing completion. All major features are implemented.
Software and Documentation
Pricing and Availability
Small orders of 1-2 units are available for $500 Canadian each. Shipping, import duties, other taxes, are in addition. Each unit is custom assembled by hand and will dispatch as soon as it is completed and tested. This will typically be within 2 weeks. Please contact us to place an order.
For larger orders, please contact us regarding volume pricing and lead times.